Monaco, Monte Carlo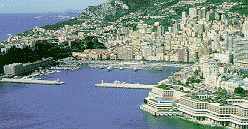 Monaco, an ancient principality steeped in a rich and colorful history, is considered by many to be Europe's most fascinating country. Though the Principality covers but one square mile, it stands as a proud monarchy with his Serene Highness Prince Rainier III as its head of state.
Today people visit Monaco and its glittering district Monte-Carlo not simply to vacation, not just to test their standing with lady luck, nor merely to see and be seen, but to revel in the memorable life-enhancing experience that is Monaco.

A sovereign and independent state, the Principality of Monaco has borders on its landward side with several communes of the French Department of the Alpes-Maritimes; from west to east these are Cap d`Ail, la Turbie, Beausoleil and Roquebrune Cap Martin. Seawards, Monaco faces the Mediterranean.

Population of the Principality consists of 29,972 inhabitants - 5,070 of whom are Monégasques, 12,047 French and 5,000 Italian (according to the last official census in 1990).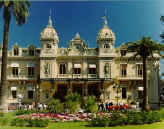 Its surface area is 195 hectares, of which nearly 40 were recovered from the sea during the course of the last twenty years.

It lies in a narrow coastal strip which sometimes rises vertically upwards with its highest point at 163 meters. Its width varies between 1050 meters and a mere 350 meters. Its coastline is 4100 meters long.

The Principality has only one commune, Monaco, whose limits are the same as those of the state, which is divided into 5 areas:
Monaco-Ville on the Rock, the old fortified town, with the Prince's Palace, ramparts, gardens, Cathedral and Oceanographic Museum;

The Condamine or harbor area;

Monte Carlo, created in 1866, in the reign of Prince Charles III who gave it its name, with its internationally famous Casino, its great hotels and leisure facilities, some created recently: Larvotto beach, the Monte Carlo Sporting Club, the Boulingrins Gardens;

Fontvieille, a great technical achievement with the filling-in with rock of 40 meters of water to produce a platform of 22 hectares supporting an urban, tourist and sports complex adjoining a yachting harbor and a pollution-free industrial zone;
History of Monaco
From the beginning of the 6th century to the end of the 10th, the barbarians and then the Saracens were the masters of the region.

1191 Emperor Henry VI granted suzerainty over Monaco to the Genoese
1956 Prince Rainier III married Miss Grace Patricia Kelly
1957 birth of H.S.H. Princess Caroline
1958 birth of H.S.H. Prince Albert
1965 birth of H.S.H. Princess Stephanie
1966 majority shareholding of the State in the capital of the Seabath Company. Large scale increase of activity over the whole range of its establishments & employment.
1974 25th anniversary of the accession of Prince Rainier III
1981 laying the first stone of new town of Fontvieille by Prince Albert, Heir to the Throne.
1982 death of Princess Grace.
1989 40th anniversary of the accession of Prince Rainier III
1993 Monaco joins U.N. May 28th

THE CLIMATE
Mild in winter (average in January and February 8.2°) and warm without excess in summer (average in July and August 25.5°). Average temperature for the year is 16.31° and the Principality enjoys an exceptional amount of sun.

Monte Carlo - Monaco Tourist Offices

USA & Canada
Monaco Government Tourist and Convention Bureau
565 Fifth Ave, New York, NY 10017 (USA)
(800) 753-9696 or (212) 286-3330
mgto@monaco1.org