summary
pioneer, soldier; born in kentucky. a large landholder on the texas frontier, he was an adventurer whose name was given to a type of knife he allegedly invented. in 1835-36 he led american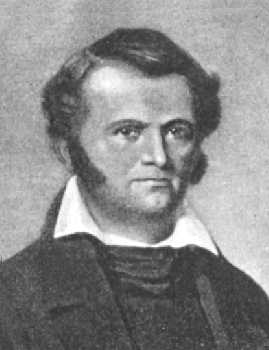 volunteers against the mexican army in texas and was killed, along with the other 182 defenders, in the siege of the alamo.
biography
known for his famous "bowie knife" and a sometimes reckless adventurer, jim bowie is now immortalized as one of the true folk heroes in early texas.
while still very young, he moved with his family, first to missouri, then in 1802 to louisiana, where he spent most of his youth. it was there that he first acquired a reputation for his bold and fearless disposition.

in 1827, bowie participated in a bloody brawl near natchez, mississippi, where several men were killed and bowie was wounded. rezin bowie, his brother, wrote he had the first bowie knife made at avoyelles, louisiana, for his brother james to defend himself, and that james used the bowie knife in the sandbar duel. after recovering from the wounds he received in the sandbar fight the following year, he moved to texas.
before the revolution in texas, bowie took part in many adventures. he spent considerable time cultivating friendships with indians in his search for elusive silver and gold reported to be hidden in the interior of texas. by some accounts, he is said to have found the fabled san saba mines, also known as the bowie mines, near the geographic center of present day texas.
* * * * *
bowie knifes
bowie knives are an american knife. popularized by jim bowie and the legendary sandbar fight, the actual shape and size of the bowie is a matter of dispute. there are several styles that are accepted as a bowie style knife. i have included photos of my favorite designs.

no, he did not invent that bowie knife -- that was his brother, rezin p. bowie, although even he was hardly the first person to make such a knife. james did much to make it famous, such as disemboweling a man with one during a duel turned brawl in alexandria, louisiana, in 1827.
he got fairly rich at an early age going into business with two other brothers, rezin and john, first in sugar milling, then in land speculation, and then in slave trading. the land speculation appears to have involved large tracts in arkansas for which they had no real title.

as for slave trading, they were actually laundering money for the pirate jean lafitte. importing slaves was illegal even if owning them was still legal, so lafitte would smuggle them in through the bowie brothers, who would inform on themselves and as a reward collect half of what this "contraband property" bought at auction. the buyers at the action were usually themselves, and they then resold the victims for a profit. they gave that up after three years and, well-heeled, played the role of young squires in new orleans. this got boring for james, and he wandered west, arriving in san antonio in 1828.
he was probably the fanciest, handsomest eligible young bachelor to have walked into that town in a generation, so his betrothal to ursula veramendi was only a matter of time. she was the daughter of don juan martin veramendi, governor of the province of texas and vice-governor of the mexican state of coahuila y texas. bowie led the governor's ranging parties against the comanches, became a mexican citizen and a catholic, and married her on april 23, 1831.
returning from their honeymoon in new orleans with rezin in tow, the two brothers led an expedition out to the supposed san saba silver mines, but what, if anything, they came up with is unknown.
the couple had zero, one or two children -- sources disagree. while bowie was away on a business trip, a cholera epidemic killed the whole veramendi family, in september 1833.
he returned to the empty vermandi house in san antonio, and turned to the bottle. when war came the texas government would not give him a commission, but houston found him useful and treated him as a colonel, based on his ranger service for veramendi. but if he sent bowie to the alamo with the expectation he would evacuate the fort, he had picked the wrong man. by going back to san antonio, bowie was going home.
retreat would not have occurred to jim bowie.
texas revolution
bowie was a leading participant at the battle of concepcion and in the grass fight near san antonio. he was in command of a volunteer force in san antonio when william travis arrived with regular army troops. the two men shared authority during much of the siege of the alamo, which caused some personal friction. but pneumonia disabled bowie, and he was confined to his cot at the time of his death when the alamo fell on march 6, 1836.
the alamo


mission san antonio de valero, later to become famous as the alamo, was established in 1718, as the first of five spanish missions founded in san antonio to christianize and educate resident indians. as the mission grew, the church structure that stands today in midtown was begun about 1755. its mission role completed, the old buildings were abandoned by 1836 when the site, by then known as the alamo, became the "cradle of texas liberty." rebelling against repressions of mexico's self-proclaimed dictator, santa anna, a band of 189 texas volunteers defied a mexican army of thousands for 13 days of siege (feb. 23 to march 6).
it is said that the alamo defenders died to the last man, among them such storied names as william travis, davy crockett, and jim bowie. cost to the mexican forces was dreadful. while santa anna dictated an announcement of glorious victory, his aide, col. juan almonte, privately noted: "one more such 'glorious victory,' and we are finished." the finish came april 21 when sam
houston's texans routed the mexican army at the battle of san jacinto near houston, and captured "the napoleon of the west," as santa anna billed himself.