audie murphy
june 20, 1924 - may 28, 1971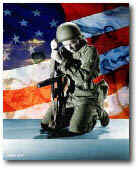 the westerns channel
celebrates the june 20 birthday of audie murphy
most decorated us soldier of world war ii

on tuesday june 20, 2000


starz encore's westerns channel celebrates audie murphy's birthday


with a four-film salute beginning at 8:00 p.m. et/pt
films in the birthday salute are:

8:00 p.m. posse from hell (1961)
loner murphy agrees to pursue four deadly outlaws after they've robbed a bank and kidnapped a young woman. co-starring vic morrow and lee van cleef.
9:35 p.m. ride clear of diablo (1954)
cheerful gunslinger takes a liking to newly minted deputy murphy, who is seeking the cattle rustlers who killed his family. co-starring dan duryea, russell johnson ("gilligan island's" the professor), denver pyle and jack elam.
11:00 p.m. seven ways to sundown (1960)
murphy is a texas ranger assigned to bring in seasoned killer barry sullivan.
12:30 a.m. walk the proud land (1956)
murphy tries to quell strife between indians and settlers. co-starring anne bancroft, pat crowley, and jay silverheels ("the lone ranger's" tonto).

the orphaned son of poor texas sharecroppers, audie murphy rose to national fame as world war ii's most decorated gi, receiving 27 decorations, including the congressional medal of honor.

murphy began his film career in the late '40s after a life magazine cover (featuring the boyishly handsome texan) caught the eye of legendary actor james cagney, who provided acting training to the soldier.

starz encore's westerns, whose slogan is "saddle up with the legends," launched in 1994 and is available on cable systems throughout the country and direct to home satellite systems including directv and echostar. film and television cowboy icon dennis weaver has hosted the channel since 1997.
read audie murphy's biography!

modern war hero & living legend

the rogue warrior - richard marcinko
www.SubmitItRight.com - FREE Meta Tag Generator
Steps 1, 2, 3... to Web Site Development & Search Engine Promotion

home | bio | pi | socrates | plato | aristotle | fascinating facts | seo
clients | blog | search | webmaster | contact