classic american comedy tv series hogan's heroes. read some hogan's heroes trivia.
follow the fun with this bunch of military madcaps who, as allied soldiers confined to a german pow camp, do their hilarious best to cause mayhem and sabotage the german war machine right under their captor's noses!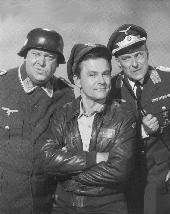 colonel wilhelm klink (werner klemperer) and his obese, bumbling assistant, sergeant hans schultz, have a hard time keeping the prisoners of war in line at stalag 13. unbeknownst to him, colonel robert hogan (bob crane) of the united states air force, assisted by his fellow inmates, have no trouble manipulating the inept colonel and his naive sergeant in their quest to sabotage the german war effort.
together, under the code name papa bear, the prisoners conduct vital missions for the allies, tapping german telephone lines, constructing underground escape routes for allied fugitives and securing top secret information from the enemy. hogan and his gang have turned a prison camp into a dangerous but comfortable paradise.

firing off a non-stop string of one-liners from behind enemy lines, bob crane, richard dawson, robert clary, ivan dixon and larry hovis lead a relentless comic assault on their nazi captors, and there's no escaping the laughs!
there were actually 8 luftwaffe pow camps in germany during world war 2 - not 13.

quotes from hogan's heroes vol. 01 - informer (video to right)
release information
studio: twentieth century fox
video release date: may 19, 1998
run time: 50 minutes
schultz: me send for you? i never send for anybody, not even if i need them.
schultz: col. hogan if you ever escape...
hogan: yeah?
schultz: be a good fellow and take me with you.
---
read about the murder of bob crane,
which is hogan of hogan's heroes
stalag 13 was built in culver city, ca.
the armored car that carried the gold in episode number 18 "the gold rush" was actually a 48 ford supply truck!
robert clary first found fame in an english/french recording of "alouette."
bob crane got into hot water as a disc jockey when he played a track of someone coughing during a cigarette ad.
bob crane and sigrid valadis (helga) were married and had a son.
robert clary spent most of world war ii as a prisoner in a nazi concentration camp.
the synchrony of voices of the german series are the same as those used in m*a*s*h. colonel robert hogan has the same voice as capt. benjamin franklin "hawkeye" pierce, major hochstetter has the voice of major charles emmerson winchester iii, sgt. carter has the voice of cpl. walter "radar" o'reilly, and sgt. kinchloe has the same voice as cpt. b. j. hunnicut.
in the dubbed german version, newkirk stutters :)
schultz may have carried an american 30-40 krag rifle.
accord publishing's "dead celebrities" calendar has an entry for jan 28th for john banner. here's the text:

john banner died - january 28, 1973
this stocky actor made his mark on tv's hogan's heroes sergeant hans schultz. there this leave-me-outta-it nazi spent 6 years avoiding conflicts while doggedly pursuing french p.o.w. lebeau's strudels.
john banner had earlier appeared in several films including strangely enough, "the wicked dreams of paula schultz."
banner died on his birthday at 63 of an abdominal hemorrhage.

the camp from the show was also used in the notorious death camp exploitation film, "illsa, she wolf of the s.s.", including two dead and nude women hanging upside down outside of klink's office.
general burkhalter's awards are: knight's cross of the iron cross with oak leaves and swords, a world war i iron cross first class along with a 1939 first class eagle spange, and an infantry assault badge in silver.
major hochstetter's awards include: the german cross in gold (should be silver), a gold nazi party badge, an iron cross first class, and an sa bronze sports badge.
col. klink is supposed to be a coward, yet he wore decorations on his uniform to the contrary. he wore the w.w.i iron cross 1st and second class for bravery, and the w.w.ii eagle spanges which showed he had won the iron crosses again in the second world war. he also wears the 1936 pattern pilot's badge and the luftwaffe ground combat badge (this is a major mistake, for this award wasn't presented until late 1942 and was given to luftwaffe officers who participated in at least 3 ground combat actions).
sgt. schultz's helmet is not correct. during w.w.ii germany produced 3 styles of helmet: models m-35 (a luftwaffe eagle on the left side and a national color shield on the right), m-40 (only the luftwaffe eagle decal), and the m-42 (rough finish, and (by hitler's order) no decals-all decals must be removed from existing helmets). sgt. schultz's helmet is a m-42, yet in the show it has a smooth finish and two decals.
ivan dixon directed many episodes of magnum pi.
sgt. schultz isn't a sergeant, but a master sergeant (hauptfeldwebel).
general burkhalter's car isn't a mercedes, but a 3-axle maybach zeppelin, with a mercedes-star on the radiator.
major hochstetter is supposed to be in the gestapo, yet gestapo men did not wear a uniform. (gestapo men did not wear uniforms in the early episodes. this was added as major hochstetter became a regular on the show)
the waffen ss often is compared to the gestapo, which was the secret police in germany, comparable to the stasi in the gdr. but this is a bad goof. the gestapo was a political underground police, which usually arrested jews for the kz's and so called &quotbad political elements". the waffen ss was an army, which was comparable to some kind of &quotarmy of the party (nsdap)".
the setting of hogan's heroes, is very bad! hammelburg, where a luftstalag did exist, is in bavaria. duesseldorf is 250 km to the northwest and berlin is more than 360 km to the northeast, but on a sign they said: duesseldorf 20 km, berlin 30 km!
it's 380km to hamburg where there's a nice harbor (but too dangerous to use), and 420km to the nearest open sea, yet the show had the heroes using a submarine as a ferry!
in germany, the program is called "ein kaefig voller helden", meaning "a cage full of heroes".
in brazil, the program is called "guerra, sombra e agua fresca".
in france, the program is subtitled "papa schultz".
the small trucks sometimes shown in the show (either as ambulance or as truck) are american models, these kind of trucks were never used in germany, at least not by the german army.
colonel klink's car is an mercedes 540 ss. built in the early 30s, adolf hitler had a similar one: a mercedes 540 ssk - a kind of "sports" car.
although schultz's first name is hans, on some occasions of the german dubbed version the name georg is used.

although the show is set in germany, the vegetation is the brush hills and eucalyptus trees of southern california.